CARACTERÍSTICAS DE LAS REDES SOCIALES
Resumen
El acelerado desarrollo tecnológico, en particular de los avances de las Tecnologías de la Información y Comunicaciones (TIC´S), han revolucionado los modos de interrelación, especialmente de los jóvenes que han nacido en la era de Internet y de los dispositivos móviles, a través de la aparición de las redes sociales. En este mapa te presento las características esenciales de una red social.

Palabras clave: Redes sociales, características de redes sociales.
Abstract
The rapid technological development, in particular, the progress of The Information Technology and Communications (ICT) have revolutionized the modes of interaction, especially young people who were borned in the age of Internet and mobile devices, through the apparition of social networks. On this map I present the essential features of a social network.

Keywords: Social networks, social networking features.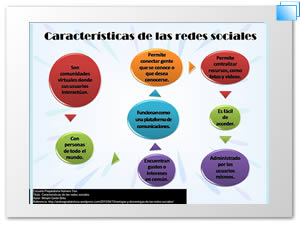 Bibliografía
http://andreapradatolosa.wordpress.com/2013/04/15/ventajas-y-desventajas-de-las-redes-sociales/
[a]Profesor Escuela Preparatoria No. 3