Dr. Orlando Ávila Pozos
Área Académica de Matemáticas y Física
Instituto de Ciencias Básicas e Ingeniería
---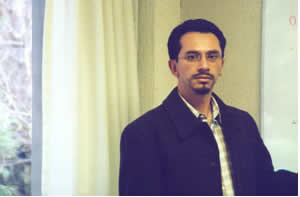 Oficina: CIMA cubículo 18
Teléfono: (771) 71 72 000 ext. 6162
Email:avilap@uaeh.edu.mx
Formación Profesional
Doctor of Philosophy Mathematics, University of Bath, Inglaterra, 2000.
Licenciatura en Matemáticas Aplicadas, Universidad Autónoma de Tlaxcala,1996.
Publicaiones Recientes
Avila-Pozos, O., Movchan, A.B. and Mishuris, G. (2010) Bloch–Floquet waves and localisation within a heterogeneous waveguide with long cracks. Continuum Mechanics and Thermodynamics, Vol. 23.Online Version: DOI 10.1007/s00161-010-0140-2.
Avila-Pozos, O., Movchan, A.B. and Sorokin, S.V. (2004) Propagation of Elastic Waves along Interfaces in Layered Beams, Solid Mechanics and Its Applications, Vol. 113, pp- 52-61.
Ávila-Pozos, O., Movchan Alexander B. (2003) Slow decay of end effects in layered structures with an imperfect interface, Journal of Engineering Mathematics, Vol. 45(2), pp 155-168.
Ávila-Pozos, O. et al. (2001) Mathematical model of delamination crakcs on imperfect interfaces, Int. Journal of Solids and Structures, Vol 38, pp 6665-6697.
Avila-Pozos, O. et al, (1999) Asymptotic Model of Orthotropic Highly Inhomogeneous Layered Structure, Mechanics of Materials, Vol 31, pp 101-115.
---
Compartir en: