Dr. Benjamín Alfonso Itzá Ortiz
Área Académica de Matemáticas y Física
Instituto de Ciencias Básicas e Ingeniería
---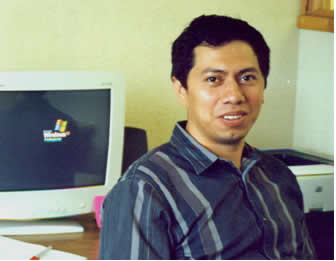 Oficina: CIMA cubículo 3
Miembro del SNI:
Investigador Nacional Nivel 1
Telefono:(771) 71 72 000 ext. 6162
Email: itza@uaeh.edu.mx
Formación Profesional
Doctorado en Matemáticas, University of Oregon, Eugene, EEUU, 2003.
Maestría en Matemáticas, Tulane University, New Orleans, EEUU, 1997.
Licenciatura en Matemáticas, Universidad Autónoma de Yucatán, Mérida, México, 1995.
Publicaciones Recientes
Classification of eventually periodic subshits. Indagationes Mathematicae. 27(2017). 868–878.
Tridiagonal operators associated to some subshifts. Open Mathematics, 14(2016). 352–360.
Classification of generalized Denjoy continua. Houston Journal of Mathematics. 41 (2015). 1295–1311.
Modelos de Duopolio de Cournot con evasi´on de impuestos. Miscel´anea Matem´atica. 55 (2012), 45–63.
Multichannel Detrended Fluctuation Analysis Reveals Synchronized Patterns of Spontaneous Spinal Activity in Anesthetized Cats. PLoS ONE. (10): e26449.
doi:10.1371/journal.pone.0026449. (2011).
Análisis de estabilidad de un controlador PID Wavelet RICSE Revista Internacional de Sistemas Computacionales y Electr´onicos. 6 (2011), 27–32.
Itzá-Ortiz, B., Continuous and discrete flows on operator algebras, Journal of the Australian Mathematical Society 86 (2009), 169--176.
Itzá-Ortiz, B., The C*-algebras of irrational time homeomorphisms of suspensions, VDM Verlag Dr. Muller, Saarbrucken, 2008, ISBN 978-3-639-07385-0.
García-Compeán, W. Herrera-Suárez, B.A. Itzá-Ortiz and O. Loaiza-Brito, D-branes in orientifolds and orbifolds and Kasparov KK-theory, Journal of High Energy Physics 12(2008)007 doi: 10.1088/1126-6708/2008/12/007
Itza-Ortiz, B. and Phillips, N. C., Realization of a simple higher-dimensional noncommutative torus as a transformation group C*-algebra, Bulletin of the London Mathematical Society, 40 (2008) 217–226.
Itzá-Ortiz, B., Eigenvalues, K-theory and minimal flows, Canadian Journal of Mathematics. 59(2007), 596-613.
Itzá-Ortiz, B.,The C*-algebras associated to time-t automorphisms of mapping tori. Journal of Operator Theory. 56(2006), 403--421.
---
Compartir en: